Tax ID No. / ID No. for Foreigners)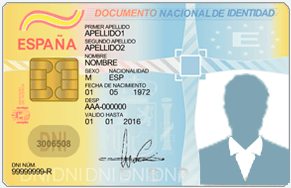 In compliance with current regulations, you must provide your Tax ID No./ID No. for Foreigners, your full name and surname(s) and your date of birth EXACTLY as they appear in your National ID Document or on your ID Card for Foreigners. If you fail to do so, we may have no choice but to prevent you from gaming via this website.
Consult our ID verification policy here
.
We inform you about how we will process your personal data for the registration, acceptance of the Gaming Contract and development of the relationship between the parties:
Basic (layer I) data protection information
| | |
| --- | --- |
| Data controller: | SOCIEDAD ESTATAL LOTERÍAS Y APUESTAS DEL ESTADO, S.M.E. S.A. (SELAE) - Tax ID Code: A86171964. |
| Purposes: | Registration, gaming contract and management of participation in SELAE games when participation is identified via the Platform, and additional services. |
| Legitimation. | The legitimate bases for the processing are the execution of a contract, the fulfilment of a legal obligation (communications) and the consent of the data subject, in the case of processing that so requires. |
| Recipients: | Economic communications to financial institutions (banks and collection/payment instrument managers) used by the participant and by SELAE for the collection of products and payment of prizes. No communication will be made to other entities, except those communications that are required as a result of legal obligation or necessity. There are no transfers to third countries or international organisations that do not offer sufficient guarantees. |
| Rights: | You are entitled to access, rectify and delete your data as well as having other rights, as explained in the Layer II information. |
| Source of the Data: | The data is provided by the data subject and the General Directorate for Gambling Regulation (DGOJ), with the latter doing so in terms of the viability of the participant's registration and his/her capacity for gaming. Also by data subject's bank/s. |
Additional information
Additional detailed information on data protection can be found HERE.
For playing in the comfort of your own home you need to create a user account. You can only register if you are of legal age, are not entered on the Spanish General Register of Gaming Access Bans (RGIAJ) and the ID data you provide is correct. These shall be checked as described in our ID verification policy and in conjunction with the competent regulatory body as per that established in the current gambling regulations. This is why you must enter your personal data EXACTLY as they appear on your National ID Card or your Foreign Resident's ID Card.